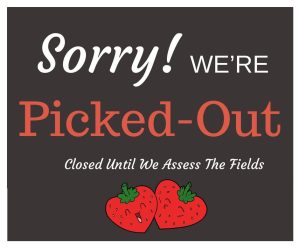 We are currently Picked-Out and closed to allow for more ripening 🍓.
So many delicious berries were picked Tuesday at the Patch! But, there are still more berries waiting for some sun and heat to ripen them along😊 🍓.
Farmer Ed will walk the fields Tuesday evening and give us an update on when we will re-open next. Hope to see you in the Patch soon!
#StayTunedBerryFriends
#MoreBerriesComingSoon
#WorthTheWait