Our Seasons
Asparagus – The first true sign of spring! Our asparagus season begins in middle to late April. We normally pick our asparagus through the end of May.
Rhubarb – We begin picking rhubarb in late May and continue picking the crop until the end of strawberry season.
Strawberries – Oh what a delicious, healthy treat! Strawberry season begins around the second week in June and last two to three weeks. It is so sad that this season comes and goes so quickly, so be sure not to miss this fantastic opportunity to pick your own strawberries right out of the patch.
Sugar Snap Peas – This season runs right along with our strawberry season giving you the opportunity to pick not only strawberries when you come out to the Patch in June but also peas!
Potatoes – Our potato season starts with new, baby red potatoes being dug while we are still picking strawberries in late June. As the summer progresses, we continue to dig our baby reds as well as dig German Butterballs. Please note because potatoes are light sensitive, we do not stock them at the Patch (except during strawberry season). They are dug fresh each week and sold at our Farmers' markets.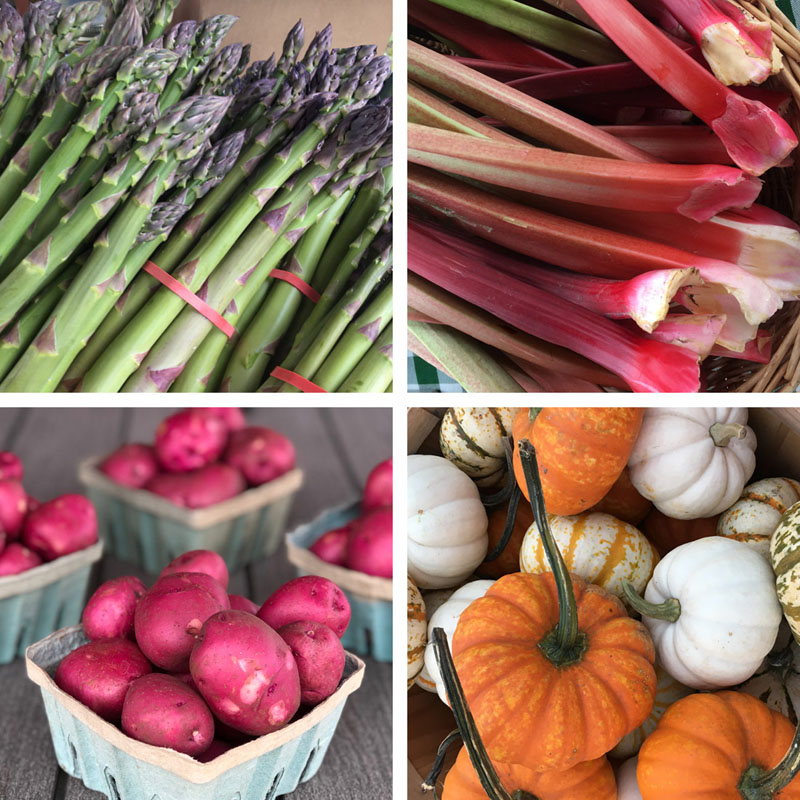 Sweet Corn – Perfect for any cookout, sweet corn season begins around mid-July and lasts right up through September. Yummy!
Sunflowers – We grow multiple varieties of smiling sunflowers in multiple plantings, but in general sunflowers are available in August at the Patch and at the farmers' markets we attend.
Raspberries – Our raspberry season begins in middle to late August. Cool thing about this fruiting crop is that it lasts until the first killing frost!
Pumpkins and Squash – Our fall season begins the second-to-last weekend in September and runs through October 31st.
Please note that the start and end dates of our crops are highly dependent on weather, so be sure to call our hotline (608-924-1404) for hours and product availability before heading out to the patch.