COVID-19: Strawberry Season Precautions
Please help us keep the Patch safe for you, our customers, our employees, and your farmers.
Please do not visit our farm if you are not feeling well.
While at the Patch, face coverings are not required but are appreciated.
Please follow our new setup for the picking checkin and checkout as well as at the registers. Signs, ropes, and X's on the ground will indicate where you need to be.
Sorry, but we will only have pick-your-own strawberries this season. No pre-picked strawberries.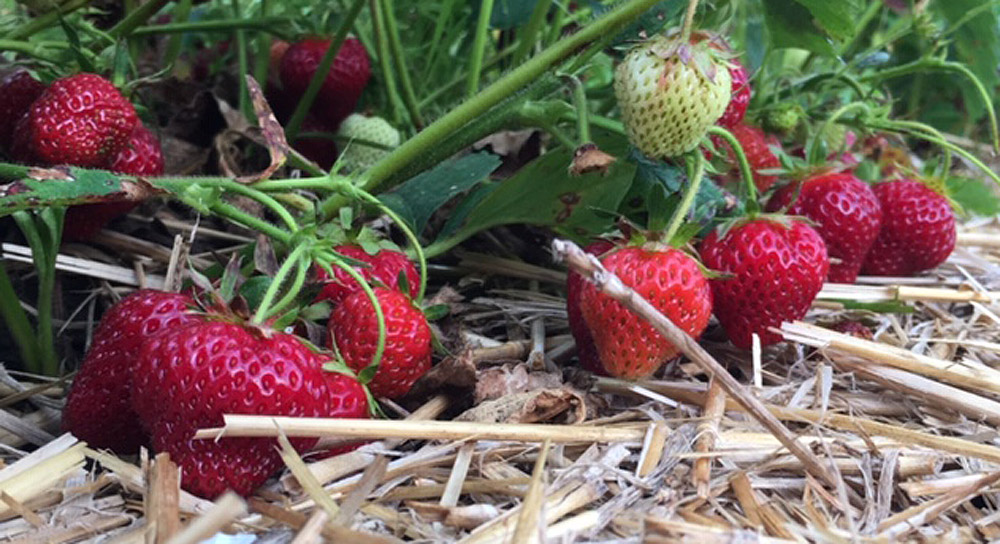 Pick-Your-Own Changes
Please sanitize before heading out to the Patch. Once sanitized, avoid touching your face or face mask.
To that end, we know eating some berries is one of the best parts of the berry picking experience. This year we ask that you do not eat berries to avoid touching your face and mouth.
We ask that only securely lidded beverages be brought out to the field.
Only new boxes issued by our staff will be allowed this year. We do not charge for these boxes. Sorry, but we will not be allowing reused boxes from a previous visit or containers from home.
Like always, our fields are set up using flags to mark your assigned picking row. To help us maintain social distancing, please pick only from that assigned row.
Children are still welcome to visit the Patch with adults, but please stay together and respect others' social distance.
No picnic areas, corn box, or rides to the field will be available this season.
Instead of pricing our strawberries by the pound this season, our berries prices will be based on volume. You can choose to pick into quart containers or our 6-quart flat boxes. There will be 3 prices: quart container, level picked flat, heaping flat. Each pricing will be around $2.30/lb.
During strawberry season we accept cash, check, credit, and debit.
The guidelines above are in place for your safety and our employees' safety. We ask that you follow these guidelines. We in turn make our pledge to follow these:
Box carriers will be sanitized after each user.
We have checklists to keep track of all sanitizing. Regularly touched surfaces will be sanitized frequently.
Our employees will not be allowed to report to work if experiencing any symptoms of COVID-19.
Hand washing stations and hand sanitizer will be available throughout the farm.
Employees working closely with public will wear masks.
We will follow current CDC recommendations and state guidelines as closely as possible.
We sincerely hope you are well and that you'll join us once again this season. Please remember that we're all in this together and that if we all work together, in the end we can all have some delicious fruit in our freezer and jam in our bellies.