Out with summer ☀️ and in with Fall 🍁!
Though you may have loved the flavors of summer including our delicious sweet corn we are officially into our fall season! And you will love those flavors just as much!
So though our sweet corn season has ended raspberry season has begun!
Raspberry Season Details:
Our raspberries are sold PRE-PICKED ONLY into pint containers or 8 pint pails. Pint containers have berries that are pre-sorted and free from debris and blemishes. The 8 pint pails are straight from the field so they may have some softer fruit in them but this makes for delicious jams, jellies, and pies.
Raspberries are picked every couple of days, so while there is often a surplus available be sure to call ahead and place an order so that we can guarantee there will be berries for you when you arrive at the Patch (hate to have you miss out).
Additional items now at the Patch include:
😋 farm fresh eggs, potatoes, local honey, jam, dilly beans, and squash.
💵 Cash or check only please.
What's coming up next you ask?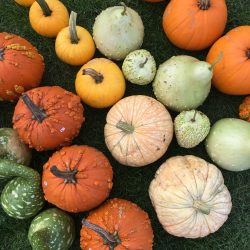 Put it on the calendar! Our Fall season officially begins at the Patch on September 9th with pumpkins, hayrides, and a trip through our corn maze! Be sure to stop out for all your fall fun and decorating needs. Once again, we are opening the Patch up to those who need a place to get out and wander. Bring the dog, on a leash please, and feel free to meander through the Patch. Feed the chickens, check on the strawberry plants to see what the fields look like in fall, view our bee hives from a distance (to see the true workers of the farm), say "hi" to the Scarecrow, and just spend some time enjoying the outdoors.
📅 Starting September 9th our hours will be Thursday – Sunday 10 am – 5 pm
Where else can you get Bures Berry Patch produce?
Bures Berry Patch regularly vends at both the Mount Horeb Farmers' Market on Thursday evenings as well as the Mineral Point Market on Saturday mornings. Both markets allow customers to shop our stand or we also have the option for you to pre-order for curbside pickup at market through our online store.
Don't forget to Like us on Facebook for updates on what is happening in the Patch!
Thank You!
Our produce has traveled far and wide in the past 18 years that we have been farmers and we can't thank you enough for sharing our products with those close to you. We really do appreciate all of our customers and your love for fresh, ripe and delicious produce!
Hope to see you in the Patch soon,
Farmer Kathy and Farmer Ed