LAST CHANCE!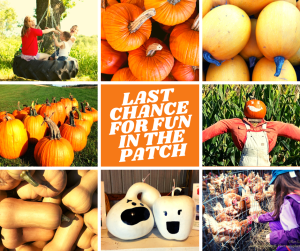 ☝️ The Patch is open for 1 more weekend (thru Oct. 30th)!
Whether you want to stock up on squash, grab some pumpkins for a party, or still need something to carve we've got you covered!
Plus, you can still join in all the fun the Patch has to offer!
At the Patch you can:
🎃 Pick-your-own pumpkins right out of the Patch, or choose from many already picked in the farm store
🚜 Take a free Hayride
🌽 Explore the free Kiddie Corn Maze
🐓 Say "hi" and feed the chickens
😋 Get your Fall flavors – 5+ varieties of squash available
👉 Let the kids swing on the tire swing & play in the tree house
🚶🐕 Bring the dog with, on a leash, and take a walk around the farm
🕑 All activities are open Thursday-Sunday 10am-5pm
😋 farm fresh eggs, local honey, dilly beans, straw bales and more are also available for purchase.
💵 We accept cash, check, or card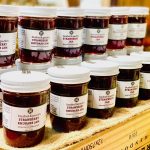 Don't forget to Like us on Facebook for updates on what is happening in the Patch!
Thank You!
Our produce has traveled far and wide in the past 20 years that we have been farmers and we can't thank you enough for sharing our products with those close to you. We really do appreciate all of our customers and your love for fresh, ripe and delicious produce!
Hope to see you in the Patch soon,
Farmer Kathy and Farmer Ed