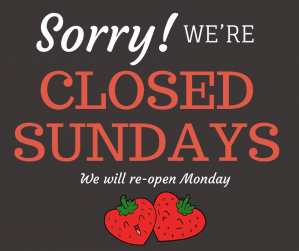 📅 In general, our pick-your-own hours this season are Mon-Fri 8a-noon as well as in the evenings from 4-8 pm (no pm pick on Fridays). We will also be open Saturdays 8a-2p, or until picked out.
👉 Important – Always check back here, or our fb page, or call our hotline before coming out to be sure we haven't closed due to being picked out or bad weather 📞 608-924-1404
🍓 U-pick strawberries are $2.40/lb, picking containers are provided, & no appointments are necessary to pick.
🍓 We accept cash, credit and checks.
🍓 Sorry, we do not have any pre-picked strawberries available this season
😋 We also have new baby red potatoes, honey, eggs and jam available.
⭐ Bonus, sugar snap peas are ready to pick.
⏰ If you haven't gotten out yet to pick, the early season heat moved our season along quickly so don't delay. We anticipate the week of the 21st being our final week of berry season.⏰
Hope to see you in the Patch soon berry friends!