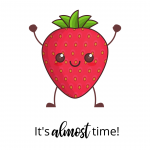 Farmer Ed is watching the fields closely and there are lots of great berries coming along, they need just a bit longer to ripen. We anticipate opening sometime between the 13th and the 15th of June! 🍓😋
🕗 Our pick-your-own hours will be:
Mon-Thur: 8a-noon & 4-8p
Friday 8a-noon
Sat 8a-2p
(all hours are as is or until picked out each session, this site will note if we are picked out)
⚠️ Important Early Season Information ⚠️
For the first week of the picking season, the berries are limited in quantities. It's always important that you call our hotline 📞 608-924-1404, or check our website or Facebook page / Instagram Account before coming out.
🍓 U-pick strawberries are $2.65/lb and picking containers are provided.
🍓 We accept cash, credit and checks.
🍓 Sorry, we will not have pre-picked strawberries available.
😋 We also have honey, eggs, pickled asparagus, and asparagus soup available at the Patch. Sugar snap peas & baby red potatoes will be coming soon.
#upickstrawberries #strawberryfarm #staytunedberryfriends #seeyouinthepatch #buresberrypatch
Hope to see you in the Patch or at market soon!
Farmer Kathy and Farmer Ed