It's Raspberry Season at the Patch! 😋
Raspberry Season Details:
Our raspberries are sold PRE-PICKED ONLY into pint containers or 8 pint pails. Pint containers have berries that are pre-sorted and free from debris and blemishes. The 8 pint pails are straight from the field so they may have some softer fruit in them but this makes for delicious jams, jellies, and pies.
Raspberries are picked every couple of days, so while there is often a surplus available, be sure to call ahead and place an order so that we can guarantee there will be berries for you when you arrive at the Patch (hate to have you miss out).
Also available at the Patch and at our markets!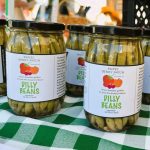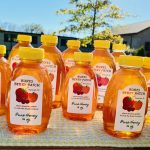 🕒 The Patch is open daily from 9 a – 6 p.
😋 We've got freshly dug potatoes (for just 1 more week), farm fresh eggs, pure, local honey, asparagus soup, sunflowers and DILLY BEANS!
💵 Currently, we accept Cash, Check or payment via QR code.
🚫 Sorry, there are no pick-your-own activities currently available at the Patch. We will re-open for pick-your-own fun at pumpkin season, which begins September 23rd 🎃
⭐ Remember, you can also find all our great items at the Mt. Horeb Farmers Market, Thursdays evenings from 3-6:30, at the Mineral Point Market, Saturdays mornings from 8:30-11am, and at the Dane County Farmers Market, Saturdays from 6:45-1pm.
Up Next, Pumpkins! Season Opens Sept. 23rd with hayrides, pumpkin picking, a corn maze, and lots of other family friendly activities!
👍 ❤️ Follow us on Facebook or Instagram for updates on what's available at the Patch.
Thanks again for your support and continued interest in our farm! We really appreciate you 🫶 !
Farmer Ed & Farmer Kathy