Now open daily at the Patch from 9 am – 6 pm with fresh asparagus, farm fresh eggs, rhubarb, and local honey. 
Our early crops of Asparagus and Rhubarb are showing signs of slowing down. Don't miss your chance to get some pickled asparagus in the cellar and asparagus soup in the freezer. We anticipate these crops lasting just another week or so.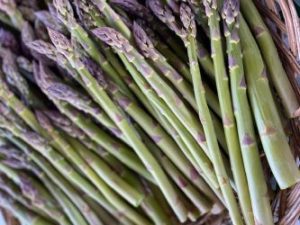 Both the Mineral Point Market (Saturday mornings) and the Mt. Horeb Farmers Market (Thursday evenings) are also OPEN! That means you can get lots of great products from local producers all in one location. 
Pick-your-own strawberry season is set to begin sometime between June 10th and June 18th. Because strawberry ripening is highly dependent on the weather we're still unsure of our opening day. Once we open, no appointment will be necessary to come pick during our open hours but it is always best to check our phone, Facebook page, or website just before heading out to make sure that conditions haven't changed in the Patch.
Unfortunately, again this season we had to make the very sad decision to not offer pre-picked strawberries this season. If you are one of our pre-picked customers please know that this was not an easy decision and we sincerely hope that if you are able to pick that you make the time to pick-your-own this season. If you know of someone who usually buys pre-picked berries from us because they're unable to pick and you've got it in you to pick a few more, that someone would sure appreciate you picking for them.
Bures Berry Patch is growing for you! Count on us to once again have our full line of fresh and healthy food at the Patch and Markets this season. From fresh picked asparagus and rhubarb to our fall raspberries, pumpkins, and squash with loads of deliciousness in the middle including our strawberries, sugar snap peas, green beans, sweet corn, baby potatoes, and lots more. You can find it all at the Patch or at one of our favorite Farmers Markets
Stay tuned Berry Friends! Hope to see you in the Patch or at market soon!
Farmer Kathy and Farmer Ed