We're getting ready for spring at the Patch, but we need your help!
Job Duties Include:
Daily field work including planting, weeding, harvesting, and packing
Working cooperatively with the team
Working outside in all weather conditions
Up to 20 hrs/week, 7am-noon, Mon, Tues, Thurs, Fri
Just because things are moving slowly at the Patch, doesn't mean things aren't changing at the Patch.
Our chickens are getting excited about the warmer weather and longer days and they are showing their excitement by laying more eggs!!!!🥚🍳
🕘 We're open daily 9-6pm (just drive all the way up to the house)
😋 farm fresh eggs, local honey, honey straws, and jam are available for purchase.
💵 Currently we accept cash or check only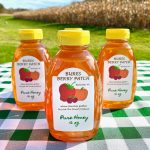 2023 is shaping up to be a great year! The strawberries are uncovered and beginning to grow. The asparagus has been mulched and is all ready to pop out of the ground come May and a bit warmer weather!
Don't forget to Like us on Facebook or follow us on Instagram for updates on what is happening in the Patch!
Hope to see you in the Patch soon! Lots of love Berry Friends!
Farmer Kathy and Farmer Ed